You are here : Chez Pierre >> Vietnam >> Can Tho >> The city
| | | |
| --- | --- | --- |
| | Vietnam : | Can Tho, the city and around |
Can Tho (1997-1999)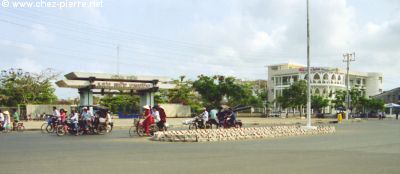 Can Tho's park, children's house.
The new fast boat which allows us to join Saigon in 4 hours... In 1998, it was far better than the road (6 at 8 hours of vile track).

Cancelled in August, restored in December...
The famous Ninh Khieu wharf, at the edge of the Mekong, flanked on the right-hand side with small restaurants and cafes.

It is the meeting place of the expatriates and the tourists.

In the centre, the gigantic statue of Uncle Ho (Ho Chi Minh).
| | |
| --- | --- |
| | The very impressive building of the Provincial Popular Committee. |
The main arteries are wide!

In the background, the hospital, supported by the Swiss cooperation.
One still finds here and there vestiges of the French colonization, even if most buildings were subdivided into small shops and apartments.

Here, if you enlarge the image by clicking it, you can discover the signboard "Imprimerie de l'Ouest" ("Western Printing Office" on the facade.
There are markets all over the city, on the other hand there are few food shops, at least for the "fresh".

The "average Vietnamese" still goes to the market every day, by custom and because not many have a refrigerator.
Markets are opened every day, all day long and are always animated.

One finds there everything or almost, from "banh my" (small bread) to the stainless steel pan, motorcycle helmets and even (live) pigs.
On the other hand I do not advise you to taste the meat from the market. At best, the pig was killed in the morning, transported on a cyclo up to the market, cut then exposed to the heat (40 °) and to the flies.

Having said that, the butchers are sometimes very nice (the one on the right-hand side wanted to marry me).
| | |
| --- | --- |
| | There are big markets and small ones too, as here in an alley. |
| | |
| --- | --- |
| There are also small food and drinks street shops. | |
And of course the inevitable reign of the PVC and the plastic, in shops, markets and even on the carts of the peddlers who go around the city streets shouting " Who wants to buy my plastic? Beautiful plastic! Many beautiful colours! "

Hem...






Page créée le 27 novembre 1998 - Mise à jour le 14 avril 2002

©opyright 1997-2007 Pierre Gieling - tous droits réservés


visitors