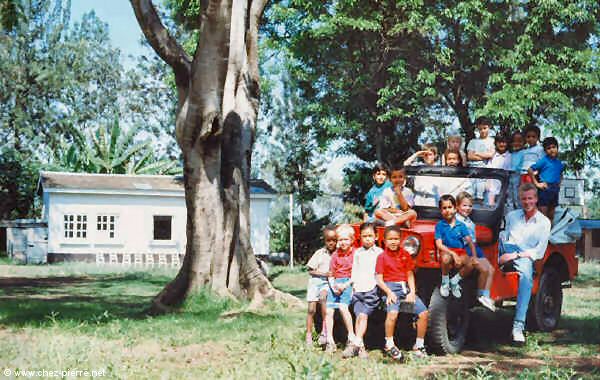 Left, my classroom ( which was destroyed later by a tornado );
Right, my 16 little creeps and me on my Jeep Willys.
Jambo Bwana !
After one year of preparation ( during my last year of College ), I had been selected to go teach in Goma, Zaire ( now "République Démocratique du Congo" ).
First Trip...

Having packed all my stuff, I said "goodbye" and took a plane to Kigali, Rwanda, where I landed one day after the Pope Jean-Paul II. Another, way smaller "plane" ( hem ) took me across the country, which I had the chance to admire through the holes in the plane's body ( the windows where too dirty to see any of the 1,000 hills ).

After the miraculous landing, Patrick Lumes, a great Frenchie, picked me up and we crossed the border to arrive in Goma, the same day as Mr. Mobutu and Mr. Mandela...
Ecole Privée à Programme Belge de Goma
Two days later ( instead of the ten days scheduled ), I found myself in front of 16 first graders ( instead of the fourth graders I was supposed to have and for which I had brought 80 lbs of materials ). We spent a wonderful year, 9 nationalities being one of the most interesting assets you can have in a classroom.
The friendship, the help and the good advice of Danielle Lebecq often allowed me to cope with the little events we had : civil war, lootings, a tornado destroying my classroom while I was in with the kids (no injuries), earthquake, volcano eruption...
A beautiful country...

Nicknamed the "Grenier du Zaïre" (Zaire's Attic) since everything grows there without problem, food is cheap and abundant. I often took my "beau tracteur rouge" (my Jeep) to go see the wildlife, fish, or visit the gorillas in the hills of Djomba.

Pure happiness ?
Supposed to do my military service in Belgium, I left reluctantly. I finally didn't have to enroll, but if I had not left in a nice commercial plane, I would have had to evacuate one month later in a C-130 with all the others...