You are here : Chez Pierre >> Louisiana >> New Orleans
| | | |
| --- | --- | --- |
| | Louisiana : | New Orleans |
When one's say "Louisiana", we all think "N'awlins"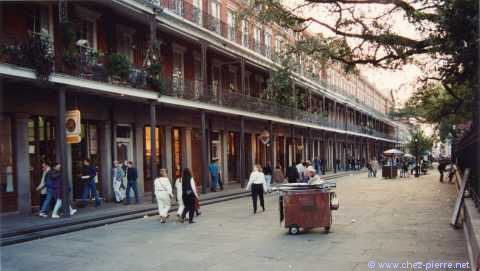 N''awlins... New Orleans... Nouvelle-Orléans...


Le "Vieux carré", Quartier Français, "French Quarter"...
French Quarter ? The name "Vieux Carré", "Old Square [place]" suits it better I think,
from its geometric form (a square),
its old origins (founded in 1717, capital of the French colony in 1731)
and from its architecture... More Spanish than French !
But Americans prefer to call it "French Quarter", maybe because of the lucre and pink business
that reigns there, along with an "art de vivre" that's unique in the United States...
Or maybe because it reminds them of the "French Kiss" ;) ?
However, New Orleans is way more than a bunch of old houses in a square. It's also St Charles avenue with its numerous "Cream Cake" houses owned by celebrities among others, the Superdome (largest covered stadium in the world and the Saints base), the Mississippi River that goes through as well as many highways, a very good place on the "Number of murders per inhabitant" Top-10, the cradle of the Jazz in 1900, the capital of Mardi Gras (6 weeks of parades, topped with 3 days of pure feast), and many other things...

These superb colonial houses are now owned
by Consulates and celebrities.
My Godfather could not resist to his childhood dream,
born in Brussels : to drive a tramway !

I hate cities

But I love New Orleans...

However, with 500 000 souls, and even if Baton rouge stole its State Capital title, New Orleans is a very big city !

Impossible to explain...

This city is alive !
It's the only city I know where the nice suburbs Mailman makes an effort for Easter day* !

Yes, in New Orleans, one can do everything...or almost.

Even when one's live in the nice modern residential suburbs (lawn in front, 1 or 2 stories house with a few columns to make it nicer, lawn in the back, a few yards between houses, a sign naming the company, the dog or the shotgun in charge of security).






* in the US, it's the Easter Bunny who brings sweets
to the kids, not the Bells like in Belgium.

You always wondered where the Mailman story
came from, hmm ?

(Photo scanned in the "Times-Picayune")
Dans le Vieux Carré

"But these people are fools !"

are you saying ?

Exactly ! In New Orleans, everybody is a little out of his mind, and that's what makes it a nice, special, passionate city.

We can make unbelievable experiences and encounters there, which I cannot tell you since they are unbelievable of course, and we never know in advance what will pop up...

Some of my friends were assaulted while they were just quietly looking for a good time, while I accompanied others in places where even the police does not dare to venture its wheels...
My shopping places put aside, where did I go ?
In the French Quarter of course !

As well as the bayous, but in a different way of course, its a magical and unique place.

A little rotten by Tourism, but, well...

No silence here... Listen... Watch... Celebrate !
Those who went to New Orleans
and didn't stop here are just...

First of all, not to be missed :

Pat O' Brien's !

When I came back from Louisiana to Belgium for the first time, my Uncle who is a Boat Captain and traveled all around the world shouted this magical name as a rally sign !

Everyone can enjoy there, next to the water and flames fountain in a court in the middle of the Quarter, the best cocktail I ever happen to try : the Hurricane ! Loved it, even though I usually don't like cocktails and alcohols. Of course, I gained a little experience there, in four years...

Attention : (1) there are many places in the surrounding streets selling imitations but nothing close to the real one ;
(2) 1 is delicious, 2 are marvelous, 3 are...dangerous, no matter what your alcohol capacity may be !
(3) you can sell back the glass at the exit (and bring what would eventually be left of your cocktail in a plastic cup) or take the superb glass with you as a souvenir (which most people do) in a cute carton box !
Next (or before, but watch the unpractical opening times...), right next to it : The Temple of Jazz :

Preservation Hall

Looks like a ruin (see picture on the right), you'll have to find a spot somewhere on the ground inside, no drinks, and listen to the same groups that play there every other day. As soon as they are finished, hop, get out and make room for the next assistance who's lining up in the street (sometimes up to 100 yards).

Yes, the place is filled up all the time despite these rough conditions : it's there we can still listen to Real Jazz like it was played in its beginnings.

Er... Yes... Even though I've been there 4 years,
I never went to The Place... Shame on me...
But I tried, I swear !
Grouped today... Solo tomorrow.

Lastly (or before any of the above), there is all the rest. Dozens of Jazz, Blues, Country, Creole, Cajun clubs, cafes, bars, restaurants... Impossible to name them here, and impossible to tell you where to go, since every evening is different.

I used to say that a French Teacher can go out every evening during his four-years stay in New Orleans and never see the same thing. And since I went there twice a month at the best...
And the clubs, even while attractive with their cocktails, oysters, beer, chic or cheap meals, have to compete between them and with the street...

The street where dozens of singers, musicians, artist, acrobats will stop you for a moment of joy in exchange of a little coin...or not.

Inspiration...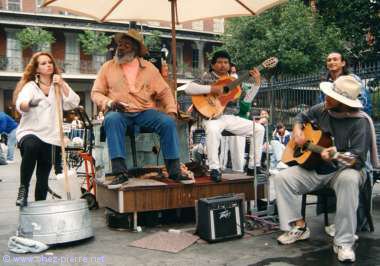 Musicians and singers sometimes get together in groups for a while, then go back solo or change group...

For our great listening pleasure !
Com'on Babe !
Voilà... That's why I love New Orleans...
What else could I say ? That after writing these lines three years later,
I would rather go for a little "Bout d'Blues" and above all... Above ALL... A Hurricane !

Page créée le 28 janvier 2001 - Mise à jour le 28 janvier 2001

©opyright 1997-2007 Pierre Gieling - tous droits réservés
visitors