You are here : Chez Pierre >> Vietnam >> VN Discovery 1
| | | |
| --- | --- | --- |
| | Vietnam : | Discovering Vietnam, part 1 |
These three pages are about a tourist trip I made around Vietnam
with my mother and two friends in December 1998 and January 1999,
while I was already living there.



The Daltons

A little introduction is necessary here : while the ladies you see besides me call themselves "the bobonnes", once I joined them in Hanoi on Dec. 23, we were "the Daltons" (look closely, you'll see).

Left to right : me, Fanny, Anne-Marie
(aka "Mom") and Françoise.

This trip was scheduled a year ago and finally came to reality. We had a lot of fun ! They saw Viet Nam with an "expat'" (an experience that is probably way different than a classic tourist trip), while I finally had a chance to visit more deeply my marvelous adoptive country.
December 23 and 24

Unusual beginning : after the bank and the airline agency... Christmas Eve !

And one of the best we ever had : Gérard, owner of the Café des Arts (11b Ngo Bao Khanh, Hanoi) and his wife prepared a "table d'hôtes" (everybody share the same big table). We enjoyed fresh (raw) oysters, Turkey with maroons, and much more delicious things that will probably disgust many well-born Americans.

December 25 and 26

Can't miss that one : Ha Long bay. Can't screw up either, so we'll trust the EXOTISSIMO agency.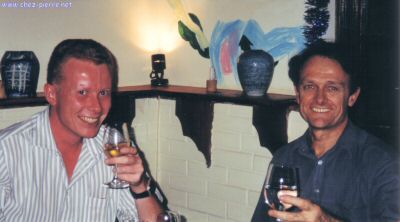 Thang,

Our guide (French speaking, but they have English speaking guides too) is always there when we need him but very discreet as well. He knows a lot (even the length of the bridges we pass) and we get to Ha Long with (not much) trouble.

After unloading our luggages at the luxurious hotel (Ha Long 1) from our private minibus, we are gone for a 6-hours trip on the bay, with our private junk.
Impossible
To describe, in words or in pictures, the beauty and the athmosphere of the bay.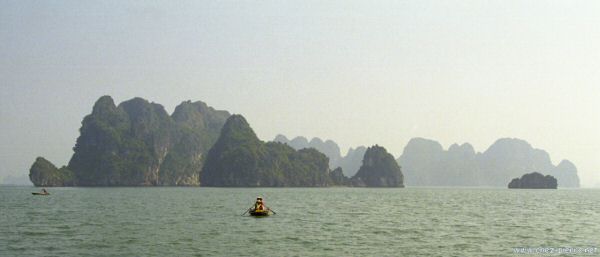 Some have had a deceiving experience, but giving it two days and a bit more money (a little more than 100 USD, everything included) we found there what we couldn't have imagined in our best dreams...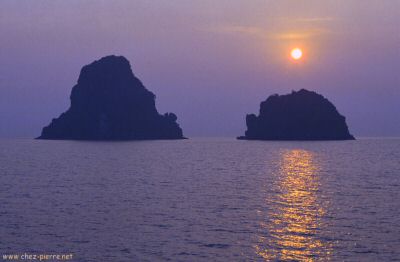 The following day, after a good night (included), we took a junk again (included - this became our favorite joke, since absolutely everything was included) for another 6-hours trip on the bay. Again, we were served a gargantuous seafood meal on board.
December 27

No way we stop here. After such a good experience, we continue with the same agency : direction Hoa Lu, "Ha Long inland" for a day.

Our new guide is Ha, and she's really too much ! She took us on small boats on these little canals, which we appreciated a lot even though this place is awfully spoiled by touristic exploitation (I've never seen photographers so quick and so insistant vendors).

Fanny can't stay quiet : she puts the vietnamese rowers on strike (for their greatest pleasure) !
Magnificent surroundings

Allez, hop !
We continue with Ha the following day, direction : ethnic tribes.
No time to go to Sa Pa, so we'll go visit the Dao and the Muong.
OK, I understand, we all have to sip the rice alcohol until the jar is empty. But nothing is transparent here, I'm sure some are faking it... Hips !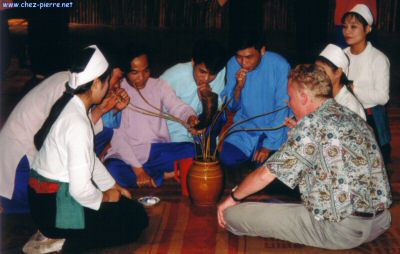 Of course, we didn't do just that in the North, and we visited the good places of Hanoi : Temple of Literacy, pagodas, Uncle Ho's Mausoleum, etc.
Hue

Thanks to Vietnam Airlines, here we are in Hue. Empty : this will be the impression we'll keep of the Imperial City, even if it is probably the major touristy place of Viet Nam. This will not steal any of our pleasure, like the one we had during this trip (one day) on the Perfume river, and even if the crew turned out to be very antipathic at the end of the day : pagode de la Dame Céleste, tombeau de Minh Mang (my favorite, even if it is in a scandalous abandoned condition) and tombeau de Tu Duc of course, all under a slight rain.

The attitude (sometimes clearly aggressive) of these people can be explained (but not forgiven) : we didn't buy anything and we refused to go on the moto-taxis, even though they told us the tombeau was more than 10 kilometers away (which we made on foot in 20 minutes, so we decided to sign up for the Olympics without even thinking about doping).
Mom on a cyclo in front of the Citadel, it was unavoidable (and by the way the best place to try the cyclos in Viet Nam)

No hotel to recommend in Hue, but a restaurant where we had a wonderful New Year's Eve : Que Huong (75 Thuan An), and the well known restaurant of the deaf and mute (address ?).

Page créée le 20 février 1999 - Mise à jour le 27 avril 2014

©opyright 1997-2013 Pierre Gieling - tous droits réservés
visitors